Description
Reloder 33

Every container of Alliant Smokeless Powder is backed by a century of manufacturing experience and the industry's most stringent quality control procedures. To ensure consistency, the chemical composition, grain shape and size, and overall density are constantly checked and tested in a ballistics lab.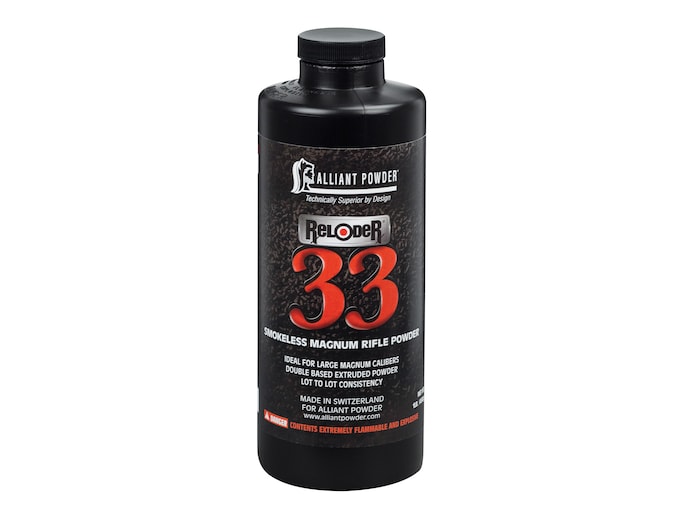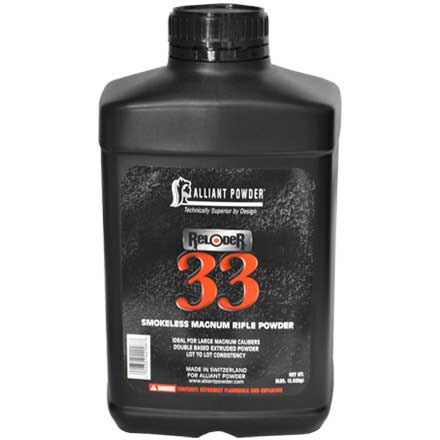 Some of the features of Reloder 33 are similar to those of Reloder 17. The same proprietary process of impregnated kernels with burn rate control elements is used by Reloder 33. This allows for a more consistent pressure curve with a delayed spike that adds up to 150 feet/sec over comparable powders. This powder was created with the 338 Lapua Magnum in mind, but it also works well with other large capacity magnums and ultra-magnums.
Manufacturer's Recommendations:
Do not exceed the load limits specified in the reloaders' guide.
Never combine any two powders, regardless of their type, brand, or source.
Never use a smokeless powder in place of black powder or a substitute for black powder.