Description
BE-86 Powder

BE-86 Powder is backed by a century of manufacturing experience and the industry's most stringent quality control procedures. To ensure consistency, the chemical composition, grain shape and size, and overall density are constantly checked and tested in a ballistics lab.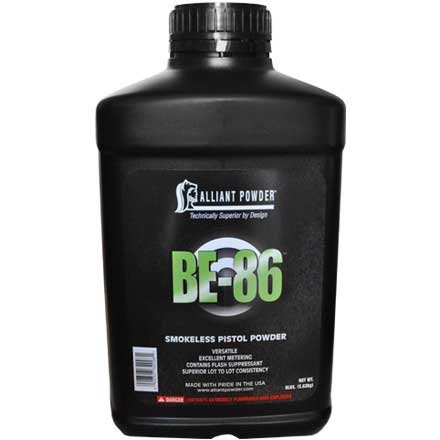 The unique extruded flake formulation produces excellent ballistics in a variety of centerfire pistol loads, with high energy, an ideal burn speed, and less flash. It meter well and comes in 1- and 8-pound canisters. BE-86 powder, like all Alliant Powder products, has excellent lot-to-lot consistency.
Manufacturer's Recommendations:
Do not exceed the load limits specified in the reloaders' guide.
Never combine any two powders, regardless of their type, brand, or source.
Never use a smokeless powder in place of black powder or a substitute for black powder.
Features
Enhanced flow
It has a flash suppressant.
a lot of energy
Consistency across lots
Versatile