Description
Black Horn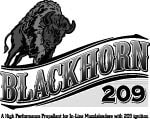 In-line muzzleloaders with a 209 primer ignition system are recommended. This powder produces extremely high velocities and unrivaled accuracy. The only non-corrosive muzzleloading powder is Black Horn 209. It is non-hygroscopic, which means that changes in temperature or humidity have no effect on its performance (reduces misfires), it can be cleaned with regular oil-based solvents, and no special primer is required. Black Horn 209 powder is compatible with standard 209 shotshell primers. Because it is non-corrosive, there is no need to swab between shots, allowing for more time in the field.
SPECIAL NOTES:
Do not exceed the load limits specified in the reloaders guide.
Never combine any two powders, regardless of their type, brand, or source.
Never use a smokeless powder in place of black powder or a substitute for black powder.